[ news ]
# current # archive 2009 # archive 2008 # archive 2007 # archive 2006 # archive 2005 # archive 2004 # archive 2003 # archive 2002 # archive 2001 # archive 2000 # rss feed

This blog has moved
This blog is now located at http://franciscolopeznews.blogspot.com/.
You will be automatically redirected in 30 seconds, or you may click
here
.
For feed subscribers, please update your feed subscriptions to
http://www.franciscolopez.net/http://franciscolopeznews.blogspot.com/feeds/posts/default?alt=rss.
PARANA RA'ANGA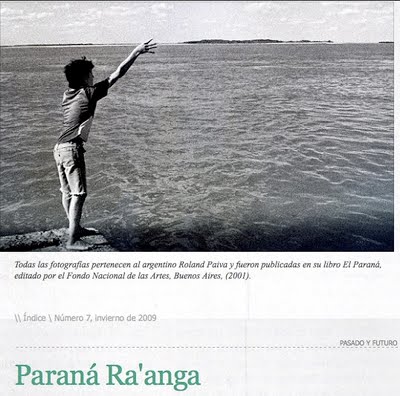 March 2010
A month-long field recording boat expedition through the Paraná River, from Buenos Aires (Argentina) to Asunción (Paraguay).
Part of a larger project involving some seventy artists, geographers, musicians, historians, anthropologists and many others invited from South America and Spain to explore the river in the spirit of the XIX century's expeditions but with the eyes, ears and souls of the XXI.
absolute berlin
Art Souterrain - Nuit Blance in Montreal
Sonic Acts Festival XIII

Sonic Acts Festival XIII
The Poetics of Space
Spatial Explorations in Art, Science, Music and Technology
Amsterdam, 25-28 February 2010
Evelina Domnitch & Dmitry Gelfand with Francisco López
Ten Thousand Peacock Feathers in Foaming Acid
In Ten Thousand Peacock Feathers in Foaming Acid, Domnitch and Gelfand use a white laser to scan the surfaces of nucleating and dissipating soap bubble clusters. Unlike ordinary light, the laser's focused beam is capable of crawling through the microscopic structures within a bubble's skin. When aimed at specific angles, this penetrating light generates a large-scale
hemispherical projection of molecular interactions as well as mind-boggling phenomena of non-linear optics. Bubble behaviours viewed in such proximity evoke the dynamics of living cells (the lipid membranes of which, are direct chemical descendants of soap films). In collaboration with sound artist Francisco López, they employ direct membrane sonification as well as
incidental and improvisational techniques. Emanating from a prolific palette of field recordings, the organic materiality of López's sound environment incites a saturated cross-sensory coalescence with Domnitch and Gelfand's proto-biotic imagery.
Dmitry Gelfand (RU) and Evelina Domnitch (BY) create sensory immersion environments that merge physics, chemistry and computer science with uncanny philosophical practices. They have collaborated with numerous scientific research facilities to create installations that exist as ever-transforming phenomena that take place directly in front of the observer without intermediation, thereby often serving to vastly extend the observer's sensory envelope.
Francisco López (ES) has developed an astonishing sonic universe based on a profound listening of the world. His extensive catalogue of sound pieces have been released by more than 200 record labels worldwide.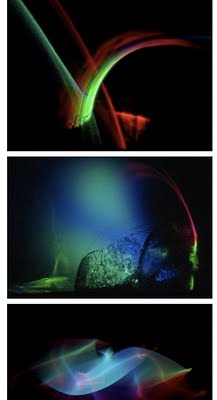 Lovebytes - Sonic materialities
Mamori (film) - Contemporary Art Museum Montreal
Mamori (film)
Optofonica Laboratory presentation - Amsterdam
SYNERGETICA: art-science society.

On a regular basis, artists, scientists and an ever growing diaspora of hybrids, will meet at the Optofonica Lab and other designated European locations, to exchange ideas and conduct workshops coupled with experiments, screenings and performances. New guests will be invited to each event, which will gravitate towards specific themes and last-minute breakthroughs.

---------------------------------------------
Saturday, January 23rd, 19:30
Optofonica Laboratory
Damrak 70, Amsterdam

Spanish sound artist and biologist, Francisco Lopez, will present an immersive listening experience of his recent recordings in the Amazon jungle.  After a career as an entomologist, particularly conducting field work on insect communication, Lopez became interested in sound art.  Among his numerous and renowned activities as a composer, he has been directing acoustic workshops in the wildest  depths of the Brazilian rain forest for the past 10 years.  In addition to multi-channel sonic documentations, Lopez will share stories of animal encounters and other survivalist episodes. 

Please, RSVP arrive sharply as the doors downstairs will be locked 15 min later.

Exponentially yours,

Optofonica Laboratory.
The world as instrument - Workshop Berlin
sin titulo #223 installations
# current # archive 2009 # archive 2008 # archive 2007 # archive 2006 # archive 2005 # archive 2004 # archive 2003 # archive 2002 # archive 2001 # archive 2000 # rss feed